ESTABLISH REQUIREMENTS
We establish teaching goals and company requirements.
PUBLISH REQUEST
We create an RFP to explain requirements to interested companies.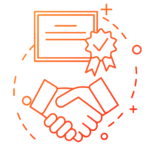 FIND QUALIFIED MATCHES
We coordinate virtual introductions to suitable companies to discuss project opportunities.
CHOOSE YOUR TOPICS
+ MORE
Sourcing companies is only half the battle!
CapSource's team of instructional designers for-hire are vetted and trained to help map out engagements within our system in order to ensure everyone's on the same page before engagements are launched.
Building a project-based curriculum by aligning course learning objectives with company goals so everyone wins is a crucial part of successful experiential learning engagements!
The Instructional Design Process
DISCUSS DETAILS
DESCRIBE COURSE TEACHING GOALS AND COMPANY REQUIREMENTS THROUGH COLLABORATION REQUESTS
FINALIZE CHARTER
HELP CONVERT COMPANY INTEREST INTO A PRELIMINARY MEANINGFUL PROJECT SCOPE BY ALIGNING COURSE CONCEPTS AND TEACHING GOALS WITH COMPANY OBJECTIVES
PREPARE FOR LAUNCH
FINALIZE PROJECT CHARTER INCLUDING TIMELINE, KEY MILESTONES, AND DELIVERABLES TO ENSURE COMPANIES, FACULTY, AND STUDENTS ARE ALL ON THE SAME PAGE