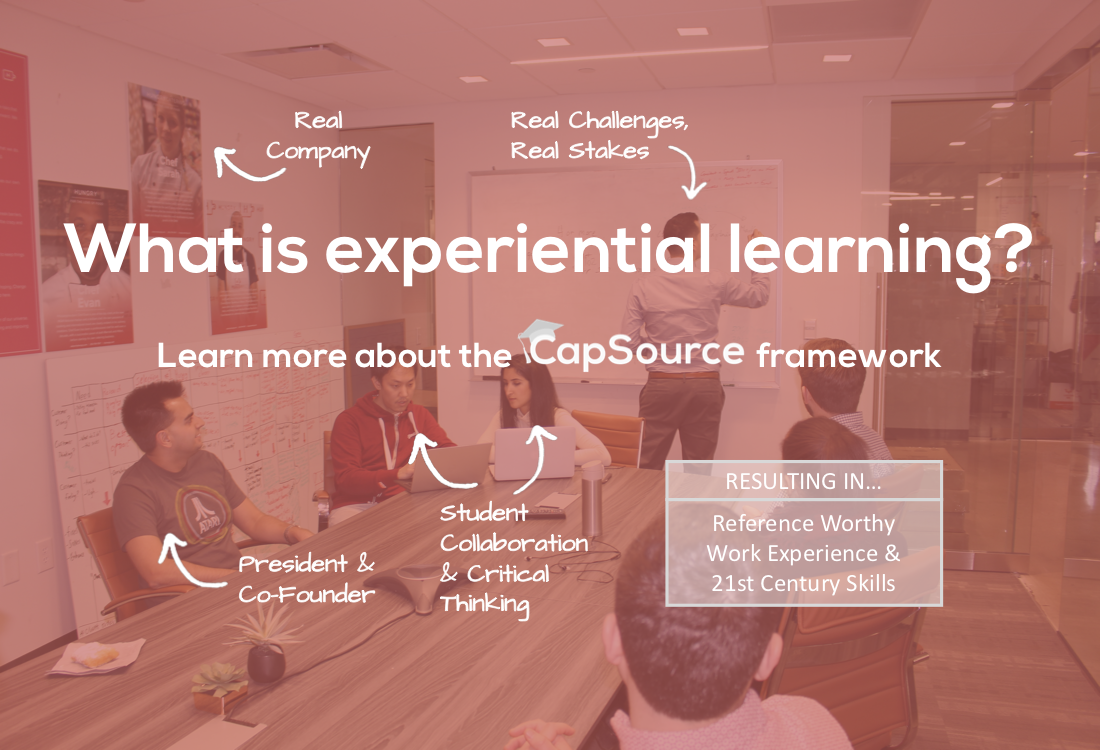 What is Experiential Learning?

As college graduates are increasingly expected to enter the workforce ready to contribute, Experiential Learning is becoming more and more prevalent within higher education programs. This hands-on approach to education encourages and requires students to apply what they're learning in the classroom to dynamic, complex professional situations.


CapSource provides educators with an easy-to-use software platform from which they can quickly build Experiential Learning programs–at scale–alongside senior business leaders from innovative startups, non-profits, government entities, and globally-renowned enterprises.


Using CapSource's software and service offerings, universities can seamlessly provide students with immersive, virtual experiences that better-equip them to be productive as they enter the global workforce.

After successfully conducting 300+ engagements with 50+ universities, and 200+ industry partners, we've been able to define a model for what Experiential Learning experiences should look like:


Experiential Learning, when done properly, results in reference-worthy work experiences that students can be proud of; our students almost always include their CapSource projects on their résumés, and regularly discuss them in job interviews.


Below you'll find a detailed summary of CapSource's methodology and approach to Experiential Learning:
Using & Developing Professional Skills
Experiential Learning with CapSource aims to address the "4 C's" of soft skills as defined by the National Education Association: Communication, Collaboration, Critical Thinking, and Creativity.

Simply put, the "4 C's" are critical to professional success in today's world, regardless of occupation. Without them, individuals will find it increasingly difficult to operate in interconnected, collaborative organizational structures and teams. Every CapSource project is specifically designed with the "4 C's" in mind.

Communication

As the global workforce quickly becomes increasingly distributed, well-developed and diverse communication skills are growing in importance. Workers must be able to effectively communicate in a variety of different ways –not just in person– but by email, by phone, video conferences, Slack, Trello, etc. In response to this trend, students using CapSource are responsible for delivering high-quality projects that are developed predominantly [or entirely] virtually. Our projects are intended to mimic the flow of communication that our students will find as they enter the workforce.

==> Read more about Boosting Student COMMUNICATION through Experiential Learning.


Collaboration

Nowadays, unless you're a pro golfer, it's highly likely that you work with and/or rely on other people to do your job well (to some extent, at least). Regardless of company size or industry vertical, most of us will work on teams of people with completely different backgrounds. In response to that, CapSource projects are designed to be inherently collaborative. Whether students are working in groups of five, twenty, or on solo projects, CapSource engagements require regular interactions with both the educator (professors or administrators) as well as stakeholders from our industry partners. Said otherwise, in order to successfully complete a CapSource project, our students have to cordially and efficiently work with other people.

==> Read more about Boosting Student COLLABORATION through Experiential Learning.


Critical Thinking

As education in general is more-available today than ever before, expectations of college graduates continues to rise. Being able to interpret information, test multiple theories, and devise strategies to navigate through complex organizational situations is something that employers expect, even of recent graduates. Because CapSource projects are designed using present day company challenges (by both the educator and the industry partner), students are able to get a taste of truly being a part of a strategic professional operation.

==> Read more about Boosting Student CRITICAL THINKING through Experiential Learning.


Creativity

For artists and musicians, creativity is pretty easy to demonstrate. For the rest of us, being able to convey our creativity through our work probably isn't as straight forward. Because CapSource projects never have one true "right" answer, our students are able to think outside of the box within a professional context, and then receive thoughtful feedback from the industry partners they're working with. Not only does this allow our students to have fun in an educational setting, it also gives them the confidence to contribute their ideas in a professional setting.

==> Read more about Boosting Student CREATIVITY through Experiential Learning.


Using Professional Tools & Technical Skills

In addition to refining their soft skills, CapSource's Experiential Learning programs require students to go beyond theory and apply what they've learned using professional tools and technical skills. Our real-world collaborations cover a wide range of topics, from STEM, to traditional business scenarios, and to liberal arts applications, as well. All of our projects are unique in nature, but many of our students leverage professional tools like Microsoft Excel, Tableau, AutoCAD, JavaScript, Amazon Web Services, and many other tools and technical applications. These are highly desirable skills, which CapSource students are able to discuss in job interviews.

Our team organized powerful curated technology tools that will lead to project success into an interactive guide, accessible here.
Producing Real Outcomes

Essential to the CapSource experience is that our students feel like they're working on something meaningful — something real, and not just theoretical. Students who undertake Experiential Learning projects with us are given projects based on current business challenges that the industry partners currently have. The solutions that students come up with are action-worthy outcomes, such as marketing campaigns, go-to-market strategies, product strategy roadmaps, data visualization dashboards, and useful financial projections. Our goal is to not just provide a powerful learning experience for our students, but to also provide strategic insights to our industry partners.

Working with Real Stakeholders

Above all else, we want students to come away from their CapSource experience more-ready for professional life. Who better to prepare them for that next phase than the senior leaders from our industry partners? These stakeholders are eager to listen to students' perspectives, because they know there's value to extract from them. In every CapSource engagement, industry partner stakeholders are involved throughout the entire process, from project design, to the initial student briefing, regular check-ins, all the way through to final presentations and delivery of findings.

Getting Real Feedback

Since Experiential Learning projects involve real companies and challenges, the feedback that students receive from faculty members, company stakeholders, and each other helps to point out professional strengths and weaknesses, all in a safe classroom environment. With CapSource projects, feedback can be given in-person and/or processed through surveys and grading rubrics with scores for different skills. We highly recommend taking a look at our article about How to Grade Project-Based Experiential Learning Collaborations if you're interested in delving deeper into the metrics that matter and the mechanisms that can be used to assess student performance.
Gaining Reference-Worthy Work Experience

Through CapSource engagements, educators are able to offer their students hands-on collaborations that allow them to gain real work experience while enrolled as a student. In fact, some students who have undertaken experiential learning projects through CapSource have become interns or full-time employees at the host company they worked with. Regardless of direct employment outcomes, students undertaking CapSource projects engage with key stakeholders who are expecting real outcomes, resulting in lifelong lessons and memorable, reference-worthy experiences that can be added to the résumé and talked about on interviews.

Real Companies

Each CapSource project involves real stakeholders from real companies, including startups, local businesses, non-profits, government entities, and large corporations. Our approach is to help prospective host companies quickly learn of the benefits and requirements of collaborating so we can convince them to get involved in the education process. CapSource maintains an active directory of host companies eager to collaborate through experiential learning engagements. These companies vary greatly in size, location, and industry and the projects that students complete can have a significant impact on company growth and direction.

Relevant Topics
CapSource breaks down each project into 19 relevant business functions in order to easily tie real & relevant business challenges to academic disciplines. Through CapSource experiential learning engagements, students are typically exposed to multifaceted challenges including multiple departments within a business, which requires taking an interdisciplinary approach to solving business challenges. Some of the most common business functions are marketing, product development, growth strategy, and data management.

Real Challenges
CapSource's experiential learning formats offer educators a variety of customizable ways to challenge students by leveraging real-world third-party host organizations as part of the education process. The engagements can be short one-day Site Visits, Capstone group projects, Live Business Case large-scale class projects, or individual student Co-Op Career Boosters. Common business challenges include the development of a board member on-boarding process and materials package, the assembly of financial statements and projections for startups, the proposal of new products with a go-to-market strategy, and a deep dive on industry and competition.

Real Stakes

The best part of experiential learning projects is that all players have skin in the game. Unlike a case study from a textbook, the stakes in an experiential learning project are real. One of our clients, Notre Dame's Mendoza College of Business, sources over 50 companies for 1-week on-site Capstone Projects each year for their MBAs. Each of the projects, ranging in topics from marketing and talent management to data analysis and financial planning, have real stakes that enable students to feel accomplished and hone skills since there's real pressure to make a real impact and solve real problems. You can see examples of Notre Dame's MBA Interterm Projects on this page, including three with HUNGRY Marketplace, one of our longest running project partners.
Organizing and Scaling Experiential Learning Programs

CapSource is dedicated to helping schools better organize and coordinate industry-integrated experiential learning programs. We offer a suite of software and services that makes finding companies and defining projects easier than ever before.


If you wish to centralize and scale your experiential learning process, we recommend that you explore the CapSource CONNECT Platform, which is a customizable way to build and track your own companies and projects.


If you need help sourcing companies and designing projects, please check out our Sourcing and Design Service, which matches companies with programs based on narrow academic requirements.
If you're a company interested in working with schools and their students through experiential learning engagements geared to benefit your business, you can learn more or create a profile today!